New Local Climate Adaptation Tool Supports Health and Wellbeing
A partnership between the European Centre for Environment and Human Health and Cornwall Council, supported by a wide range of local stakeholders is developing  a tool to support local decision makers to plan and adapt to climate change.
The Local Climate Adaptation Tool (LCAT) brings complex climate models, adaptation options and health impact evidence to help the user understand the health implications of climate change in their local area. Importantly, LCAT also generates recommendations of appropriate adaptation approaches, based on the best available evidence that will support the health and wellbeing of local people. LCAT is being developed for use by local authorities and public bodies.
LCAT allows the user to select a local area of interest (starting with areas across Cornwall as a case study), and see the predicted climate for this area over the coming decades. It combines these predictions with evidence on the health impacts of climate change from the scientific literature to support local organisations to plan their adaptation strategies, and enable the best possible health and well-being outcomes for local people. For example, planning cycle paths with shade for hotter summer months and protection from stronger cross winds in the winter, ensuring people can continue to gain the health and wellbeing benefits of cycling in a changing climate.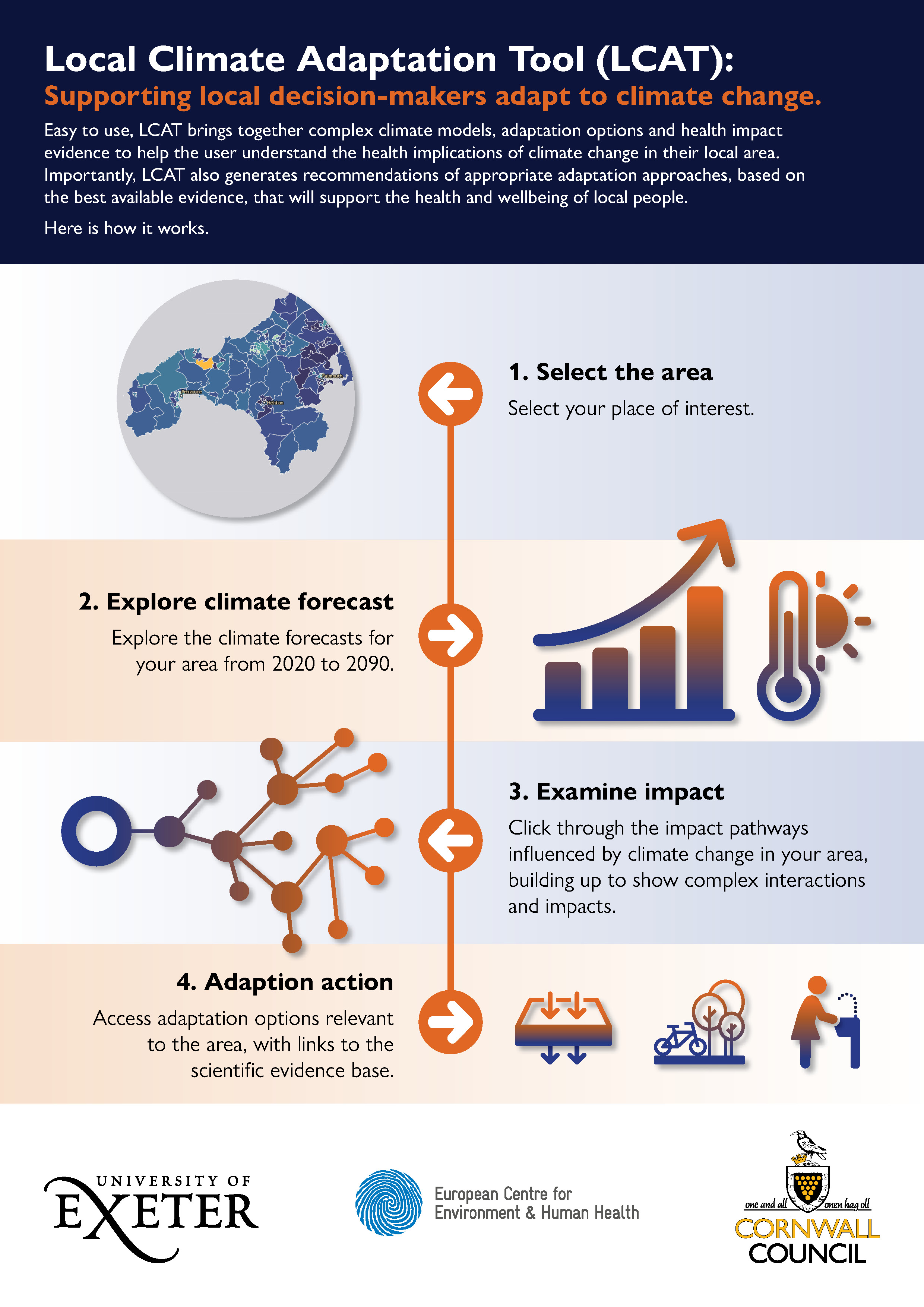 The tool is free and open source, and is aimed at helping councils, the NHS and emergency services understand what is likely to happen and prioritise their climate adaptation approaches.
Starting with a cross-service workshop led by Prof George Morris, a year was spent exploring how key stakeholders were adapting to climate change, what the barriers were to action and finding a common language that would allow decision making across traditional boundaries. The findings were clear, very little action on adaptation was taking place, stakeholders felt unequipped to take action. However, stakeholders recognised the need for action, but were uncertain how to proceed and saw a key role for the University to support them to do so. Stakeholders identified the need for:
Access to local future climate models;
Clear guidance on appropriate adaptation, that was evidence based;
Guided access to the evidence base;
Support to work across traditional boundaries;
The use of health outcomes to drive decision making provided a common currency.
These findings led to the creation of the Local Climate Adaptation Tool (LCAT) Project. Our changing climate affects public health and wellbeing of communities by affecting impact pathways (eg. services and infrastructure). By considering the implications on impact pathways, the tool will provide recommendations for action to ensure these assets are fit for purpose in our changing environment.
For example, in considering the active travel agenda, how should active travel infrastructure be developed faced with wetter, stormier winters? The use of a health lens provides a common 'language', relevant to all service areas, and facilitates a multi-agency approach to adaptation planning. Key to supporting informed decision making is a link to the evidence base; the tool identifies key, published evidence on health and wellbeing outcomes to support the recommendations/advice it will generate.
Currently at a proto-type stage, and using Cornwall and the Isles of Scilly (CIoS) as the pilot site, the tool is being developed to be used across local authority areas throughout the UK and beyond, to support climate change adaptation planning.
Local non-profit organisation, Then Try This were commissioned to develop the software to demonstrate how the tool could work. Access the tool here. A stakeholder group, made up of organisations from across the public, private and voluntary sector is supporting the development, to ensure LCAT meets the needs of users.

Climate Kernow, a network of environmental community groups in Cornwall, CoaST, a sustainable tourism collaboration, and Volunteer Cornwall are members of the stakeholder group.
The project is innovative because it is delivering a place-based tool for use by a wide-range of public sector bodies to model and forecast the impacts of climate change; and provide information for relevant adaption measures to cope with climate change at a localised level across a number of different aspects of society and infrastructure.
The project is a partnership between University of Exeter and Cornwall Council. And has been developed in response to, and with stakeholders in order to ensure ease of use of the tool, particularly given the uncertainty and lack of confidence of users in the knowledge base. In response, the tool has been designed to require minimal data input from the user. This has been achieved by aligning multitude of datasets, including climate data (rainfall, wind speed and temperature; both actuals and forecasts), health evidence, socio-economic and geographic data, and adaptation measures. Tin this short film, key partners discuss the project:
This means that the user only has to select an LSOA (Lower Layer Super Output Area), and the tool will provide information on local climate forecast and the most appropriate adaptation measures for the local community, along with links to relevant research which supports said measures. As the tool develops this output will be ordered by subject relevance for the user.
With both the University of Exeter and Cornwall Council being anchor institutions in Cornwall, the partnership has also benefitted from an approach that is rooted in existing knowledge, focusing on relevant gaps and needs, rather than repeating previous work. It has also generated new opportunities, including gaining access to more detailed Met Office data to cover the whole UK, and through an invitation to present the project at COP26 in Glasgow.
Stakeholder engagement will continue as LCAT develops, providing the opportunity for local groups and bodies to engage and contribute to the adaptation planning and implementation in local areas. Local engagement will also expand as LCAT expands into new areas, collecting and responding to the views and needs of communities, initially in more urban environments, facing different climate challenges.
Health and climate change are both complex problems rooted in issues of inequality. In Cornwall, there are multiple potential vicious cycles which threaten to exacerbate both. For example, the availability of clean and healthy transport, or access to affordable and reliable energy sources to stay warm and well. Part of our stakeholder insight included charting with them what the local issues and inequalities currently are and how any tool might mitigate against exacerbating these and be mindful of those unique factors.
Following feedback from stakeholders, the tool's interface has been developed to show how each Lower Layer Super Output Area (LSOA) is ranked according to the Index of Multiple Deprivation. This allows an at-a-glance perspective on how each area might be able to respond to the risks predicted through the tool's analysis of the climate models.
The partnership of the University of Exeter with Cornwall Council, ensures the tool will be connected to the Council's highly-regarded decision wheel, a tool based on Doughnut Economics which enables decision makers to consider the holistic impacts of decisions on indicators of planetary and human health and prosperity. This ensures that the health recommendations of the tool will be directly informing decisions around issues from housing and crime to jobs and democracy.
For more information please get in touch
Related content