WHO Collaborating Centre on Natural Environments and Health
The European Centre for Environment and Human Health has been designated as a WHO Collaborating Centre on Natural Environments and Health. This designation recognises the Centre's significant contribution to science and policy-making on the interconnections between environment and human health.
The activities of the WHO Collaboration Centre will focus on supporting the WHO Regional Office for Europe in the following areas of work:
The compilation of evidence on natural resources, environment and health, providing reports and training workshops to share the related knowledge;
Raising awareness and providing technical input to support policy development in natural resources, environments and health through workshops, reports and presentations;
The development of concepts and criteria appropriate for establishing priorities in environment and health research.
The designation is based on a history of collaboration between the University of Exeter and the WHO, and aims to solidify efforts to develop capacities and support functions on natural environments and health across the WHO European region.
The WHO Collaborating Centre is led by Prof Lora Fleming, Director of the European Centre for Environment and Human Health
Recent publications in relation to the Collaborating Centre activities include:
Nature, Biodiversity and Health: An overview of interconnections. A WHO report.
WHO/Europe has published its first report on nature, biodiversity and health together with the WHO Collaborating Centre on Natural Environments and Health at the University of Exeter. This report provides an overview of the impacts of the natural environment on human health. It presents the ways nature and ecosystems can support and protect health and well-being, and describes how nature degradation and loss of biodiversity can threaten human health.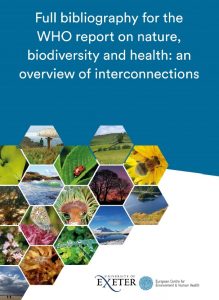 Morris G, Martuzzi M, Fleming LE, Racioppi F, Matic S. Environmental Health Research: Identifying the Context and the Needs, and Choosing Priorities. Oxford Research Encyclopedia of Environmental Science. Author accepted manuscript deposited February 2020 http://hdl.handle.net/10871/40725; Online Publication Date: Jun 2020 DOI: 10.1093/acrefore/9780199389414.013.703
https://www.euro.who.int/en/health-topics/environment-and-health/urban-health/publications/2017/urban-green-spaces-a-brief-for-action-2017
https://bluehealth2020.eu/wp/wp-content/uploads/2020/06/BlueHealth-Toolbox-2020_Horizon-2020.pdf)
Melissa R. Marselle, Terry Hartig, Daniel T.C. Cox, Siân de Bell, Sonja Knapp, Sarah Lindley, Margarita Triguero-Mas, Katrin Böhning-Gaese, Matthias Braubach, Penny A. Cook, Sjerp de Vries, Anna Heintz-Buschart, Max Hofmann, Katherine N. Irvine, Nadja Kabisch, Franziska Koleky, Roland Kraemer, Iana Markevych, Dörte Martens, Ruth Müller, Mark Nieuwenhuijsen, Jacqueline M.Potts, Jutta Stadler, Samantha Walton, Sara L.Warber, AlettaBonn. Pathways linking biodiversity to human health: A conceptual framework. https://www.sciencedirect.com/science/article/pii/S0160412021000441
Hunter, R.F., Cleland, C., Cleary, A., Droomers, M., Wheeler, B.W., Sinnett, D., Nieuwenhuijsen, M.J., Braubach, M., 2019. Environmental, health, wellbeing, social and equity effects of urban green space interventions: A meta-narrative evidence synthesis. Environment International 130, 104923. doi:10.1016/j.envint.2019.104923 https://www.sciencedirect.com/science/article/pii/S0160412018331751
Assessing the value of urban green and blue spaces for health and well-being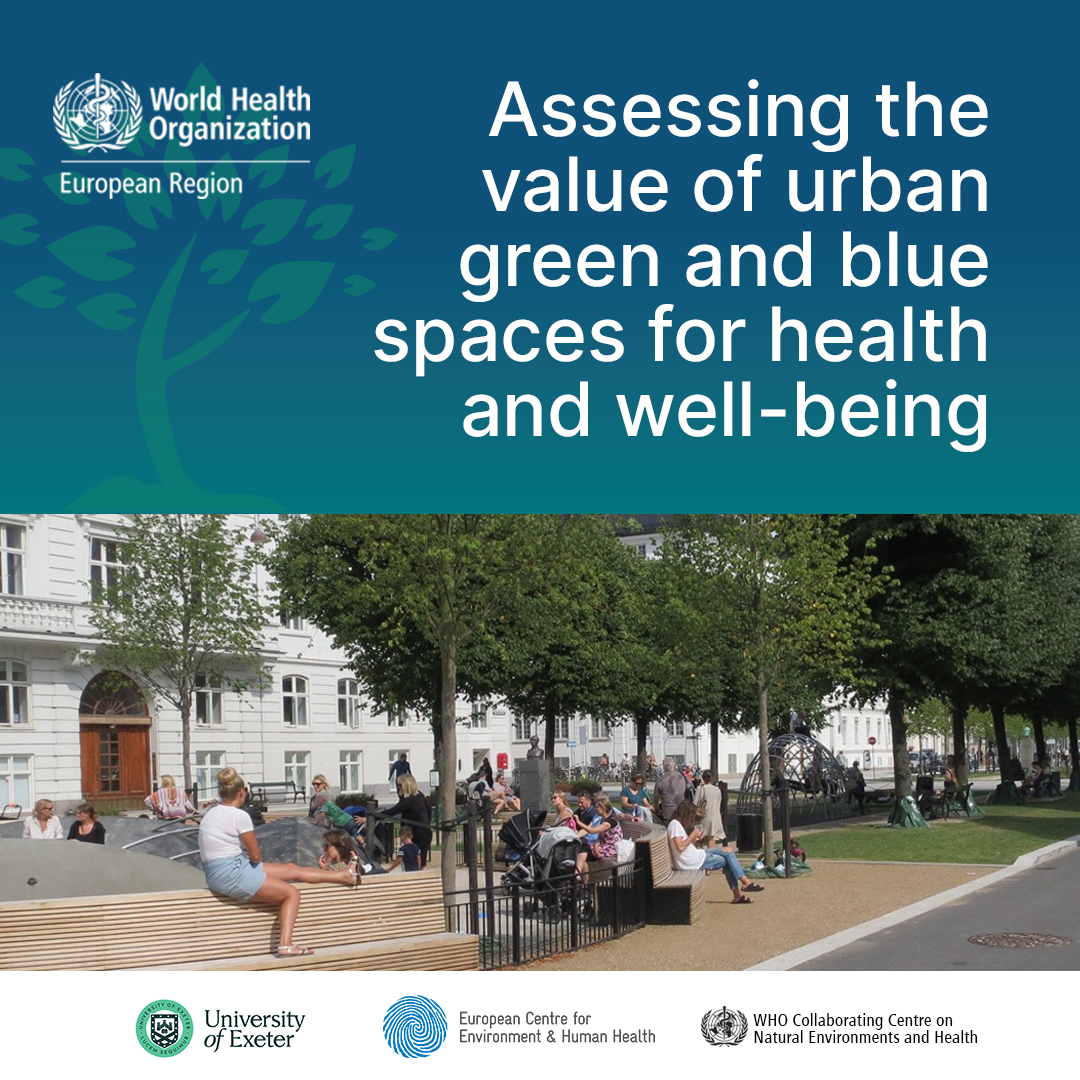 A growing body of evidence demonstrates the potential of urban green and blue spaces to generate better health and well-being. Better quality spaces are linked to better human health outcomes, and poorer quality spaces to poorer ones.
Requested by the World Health Organisation (WHO) Regional Office for Europe, the review is authored by experts at ECEHH
The document aims to support individuals and organisations across the 53 member states of the WHO European Region in making evidence-based decisions. It is intended to stimulate discussion and action among policy-makers and practitioners and to support these stakeholders in making decisions in this complex space.