Policy brief to tackle pharmaceutical pollution launched at House of Lords
An Exeter PhD student has helped lead a policy brief on pharmaceutical pollution launched at the House of Lords.
Emily Stevenson from the University of Exeter and Julze Alejandre from Glasgow Caledonian University, both British Society for Antimicrobial Chemotherapy (BSAC) senior parliamentary interns for Green Party Peer Baroness Bennett, led the development of policy recommendations to reduce pharmaceutical pollution in the UK.
Pharmaceutical pollution is considered a One Health and Planetary Health concern that impacts water quality, contributes to biodiversity loss and links to the development of antimicrobial resistant organisms in the environment.
The policy brief, which features contributions from Dr Aimee Murray, Dr Kelly Thornber and Professor Ed Wilson of the University of Exeter, was launched today (19 July) at an event hosted by Baroness Bennett at the House of Lords.
It proposes a number of 'eco-directed and sustainable' interventions in the prescribing of pharmaceuticals including maximising non-pharmacologic interventions; optimising medicine use; discussing the environmental impact of pharmaceuticals during patient consultation; and deciding on the best patient-centred healthcare intervention through shared decision-making between patients and healthcare providers.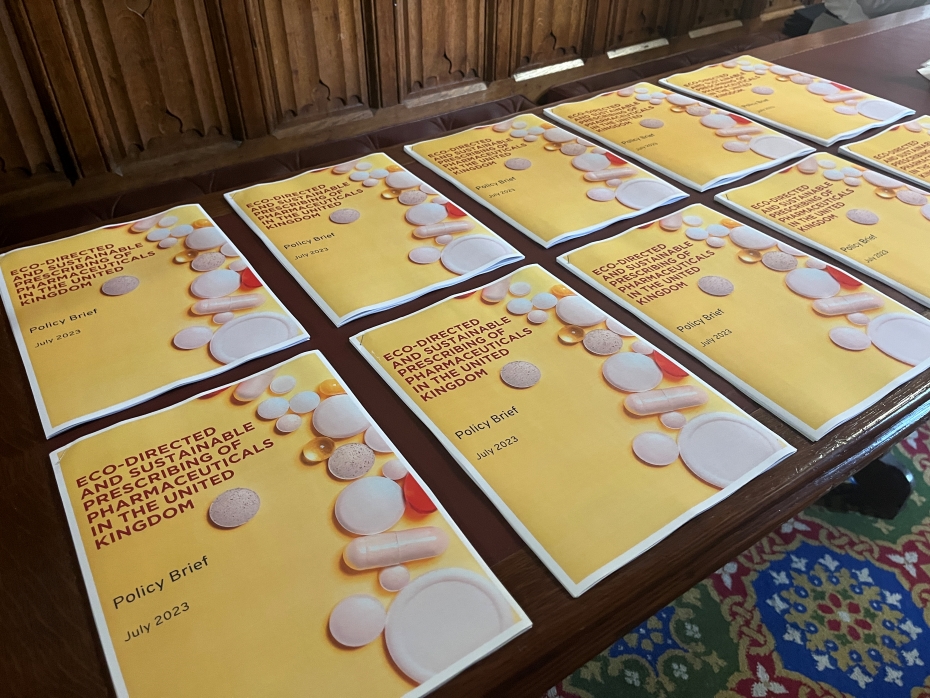 Developed from high-level consultations with experts and stakeholders from government, industry, academia and civil society organisations, the policy brief contains 15 recommendations spanning public health; the promotion of greener and sustainable healthcare; environmental considerations in healthcare decision-making; and extended environment risk assessment of pharmaceuticals.
The UK government committed in 2021 to develop climate resilient and sustainable low carbon health systems by signing the COP26 Health Programme in Glasgow and it is hoped the policy brief will raise awareness among policy-makers of pharmaceutical pollution and its link to public health.
In developing the recommendations, Emily and Julze noted that NHS England's Greener NHS initiatives, which focus on decarbonising the NHS, include limited plans to reduce pollution from prescribed pharmaceuticals.
However, NHS Scotland's recently published climate emergency and sustainability strategy acknowledges the need to reduce pharmaceutical pollution in addition to reducing carbon emissions from pharmaceutical use.
Julze said: "The issue of pharmaceutical pollution is oftentimes forgotten by our policymakers when they talk about strategies for climate change and environmental degradation. This is mainly due to low awareness of our leaders about this health and environmental problem. We hope that through these policy recommendations, we will help build awareness about pharmaceutical pollution and ways to resolve this among our leaders at the UK Parliament."
Emily added: "The launching of this policy brief is an exciting step closer to seeing the UK government recognise that reducing environmental pollutions is a means of preserving public health, as well as benefitting the natural world. It's been a great experience to have worked on this document and to have co-led these interdisciplinary and constructive discussions between a wide range of stakeholders – a true representation of successful collaboration between policy, industry, academia, healthcare and civil society."
The policy brief on 'Eco-directed and Sustainable Pharmaceutical Prescribing in the United Kingdom' can be accessed here.
Related content